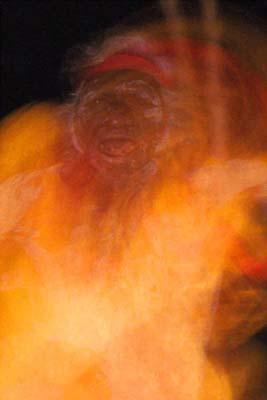 Exhibition in New York at the
photo+graphic gallery
May 10 - June 8, 2003

SPIRIT OF THE GIJA
ROGER FOLEY
'Spirit of the Gija' is by lumino kinetic artist, photographer and filmmaker, Roger Foley whose large-scale color prints show in luscious intimate detail the energy, movement, and spirit of the Gija Aboriginal tribe of Western Australia.

In July 2001, Foley was invited by the Jirrawun Aboriginal Artists Corporation (Gija tribe) to develop the audiovisual and lightshow component for a Joonba dance performance titled "Fire Fire Burning Bright".

Performed at the Perth International Arts Festival and the Festival of Melbourne, "Fire" tells the story of the massacres around the time of World War I of the Gija people of the Kimberley.

There are no official white reports of a massacre and no police files, however the story was kept alive by the Aboriginal descendants in the region and passed down through generations in song, dance and oral storytelling.

Foley's photographs were taken in one of the most remote areas of Western Australia as he worked with the Jirrawun to capture their performances, rehearsals and personal ceremonies done for Foley and his associates. His photographs include that of a special Lirrga dance ceremony the Gija performed to celebrate Foley's 60th Birthday.

The Gija dancers, singers and artists are incorporated as the Jirrawun Aboriginal Artists Corporation and the Neminuwarlin Performance Group led by Freddie Timms, Paddy Bedford, Dotti Wabti, CEO Tony Oliver, and Creative Director Peggy Patrick.